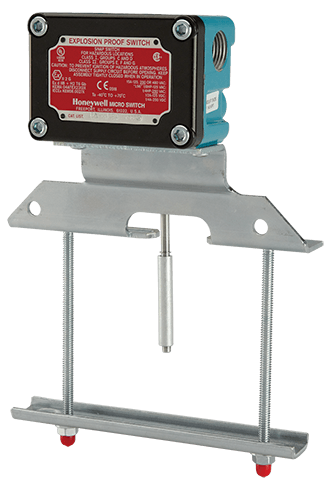 OSYEXP
Explosion Proof Supervisory Switch
---
OSYEXP explosion proof supervisory switch is designed for hazardous locations and to handle extreme conditions.
Intended Use. The OSYEXP is intended for use with outside screw and yoke type valves, while the PIBVEXP monitors the open position of post indicator and butterfly type valves
Robust Construction. OSYEXP switches are contained in a compact and rugged NEMA 1, 7 and 9 rated enclosure. The enclosure operates across a wide temperature range, from –40°F to 160°F.
Simplified Operation. OSYEXP covers are secured with four captured screws to prevent screw misplacement while the cover is removed. A single tapped conduit entrance and ample wiring space provide quick and easy electrical connection.
Features
Designed and approved to operate in hazardous locations
NEMA 1, 7 and 9 enclosure rating
Compact, rugged housing
Ample wiring space
Captured cover screws
Single conduit entrance
These units are ideal for installation in hazardous locations classified as follows:
Class I, Groups C, D, Division 1 and 2
Class II, Groups E, F, G, Division 1 and 2
---
Documents & Resources
---
Literature